Trilola wrote:Where can I create a personalized sudoku grid,basically I want it to have a message, so that the numbers can be converted to alphabet based on their numbers is that possible?
I think you are talking about a Codedoku.
It's basically a sudoku but each number is a letter instead. Some grids are marked so once solved you can read a hidden message. That means for a default sudoku, the message should contain only 9 different letters, which is quite limited.
I made one as a joke because I'm hilarious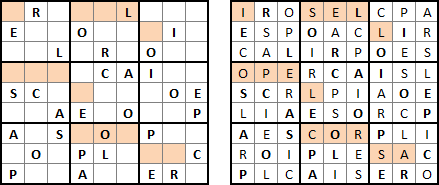 Bad thing about this is usually you don't need to crack the entire puzzle to correctly guess the message.
I've never seen a codedoku generator, I'll tell you how I made mine: I started with the message, then filled all other grids following sudoku rules (I changed all letters to numbers so it was easier)
Not every combination is possible, you may get stuck, that's why it's useful to try solving the sudoku with the message with a solver to see the valid candidates of each cell.
Once you have the full grid, pick some numbers and try again on a solver to check it has only one solution. Finally change the numbers to the correct letters again.
It took me 20 minutes aproximately